Growing Veterans loves our volunteers, and we wouldn't be able to accomplish the tall orders without them. Volunteering at Growing Veterans is a more profound interaction than merely volunteering. It is essential to our mission — to empower veterans to grow food, communities, and each other — because "community" decreases veteran isolation, and veteran isolation is a gateway to the multitude of issues that veterans live. Volunteers participate shoulder to shoulder alongside veterans, and this simple interaction elicits stories and commonalities which make us a feel something greater than ourselves.
There are many ways to volunteer at Growing Veterans. The most common way is to come out to one of our farms to lend a hand and get to know our staff and volunteers. We host volunteer events every week for 9-months out of the year. Volunteers can help with clerical and administrative tasks to include submitting blog posts, soliciting donations, and grant research. Large groups are welcome to volunteer too. In the past, we have hosted corporate service days with Starbucks, Outerwall, Deloitte, and we have volunteered with fellow veterans organizations The Mission Continues, Team Rubicon, and Team Red, White & Blue. We invite you to come out and be part of the movement to support veteran transition and the critical sustainable food movement.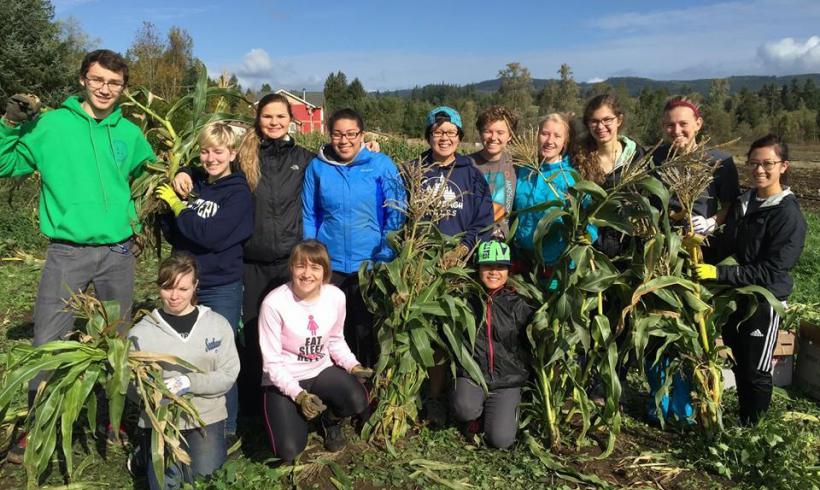 In 2016, Growing Veterans had a great time with volunteers. 350 volunteers donated 3,500 hours which is the equivalent of $84,490.00 in economic impact (based on the National Standard rate for volunteer hours of $24.14). These numbers account for the volunteer time, skills, labor, and how it affects the direction of managing Growing Veterans' programs. Even though Growing Veterans benefits from volunteers, volunteers benefit from sharing their time with us. The Corporation for National & Community Service maintains a proper registry of the benefits of volunteering. In 2007, they published an article titled "The Health Benefits of Volunteering: A Review of Recent Research" that validates the good feelings experienced during and after volunteering, Research found that
"Volunteer activities can strengthen the social ties that protect individuals from isolation during difficult times, while the experience of helping others leads to a sense of greater self-worth and trust."
Growing Veterans Volunteer Contacts
Questions about volunteering at the Whatcom or Skagit farms? Contact Erin Hendrix, hendrix@growingveterans.org.