Online Peer Support Training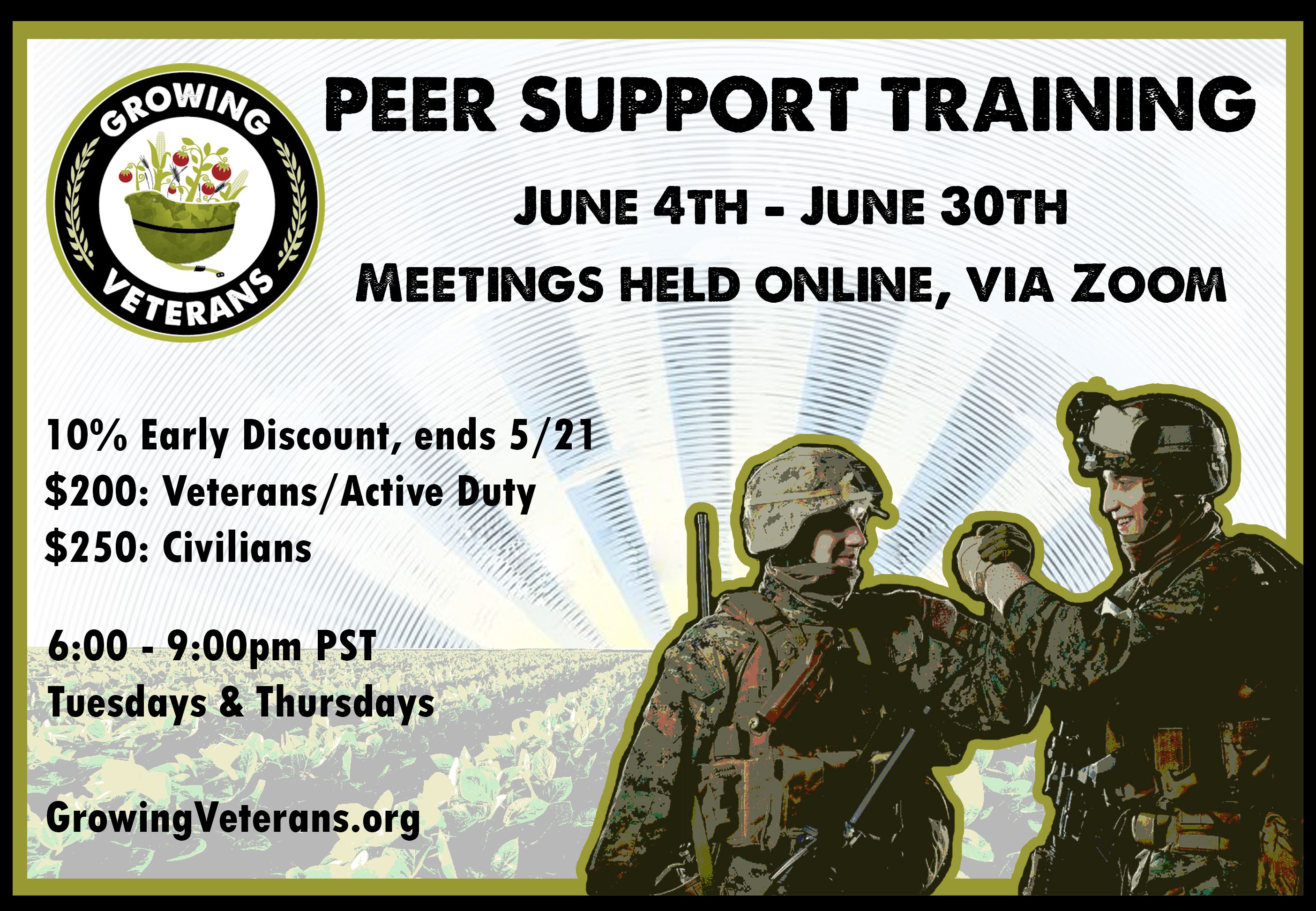 Join us for our online Peer Support Training. Our training is research backed and now going virtual so we can deliver this important material to veteran communities and their supporters on a national level. You can learn more about Peer Support Training here. 
After successful completion of the course, you will:
Develop the skillset of a Peer Supporter; Active Listening, Empathy, and Curiosity. 
Be more prepared to help a fellow veteran in need
Strengthen the culture of peer support in your organization and in your relationships
Create lasting friendships with other participants
Obtain skills that will help you communicate more effectively
Learn something new about yourself and others
Receive a Certificate of Completion
When:
Classes will be held every Tuesday & Thursday starting Thursday, June 4th through Tuesday, June 30th from 6:00pm - 9:00pm PST for a total of 8 classes.
Where:
The training will be held via Zoom from the comfort of your own home or office.
Cost:
The training will be $250 for civilians and $200 for veterans/active duty.
There is a 10% early bird discount for those who register in the first week, before May 21st. Please reach out if you have any questions or financial concerns.
Who:
The class will be facilitated by Kevin Meenaghan, a veteran 26-year Navy pilot with amazing leadership skills. There will be guest facilitators from the mental health field, as well. 
Registration:
If you are interested in being a participant in our training, please fill out the form below. Space is limited, so once you fill out the form, we will contact you to make sure the training is a good fit. 
Accreditation:
While our three day peer support training is accredited for 20.5 CU's, we are in the process of accreditation for this virtual version and anticipate being accredited and able to approve CU's for this first class.
Register Here: