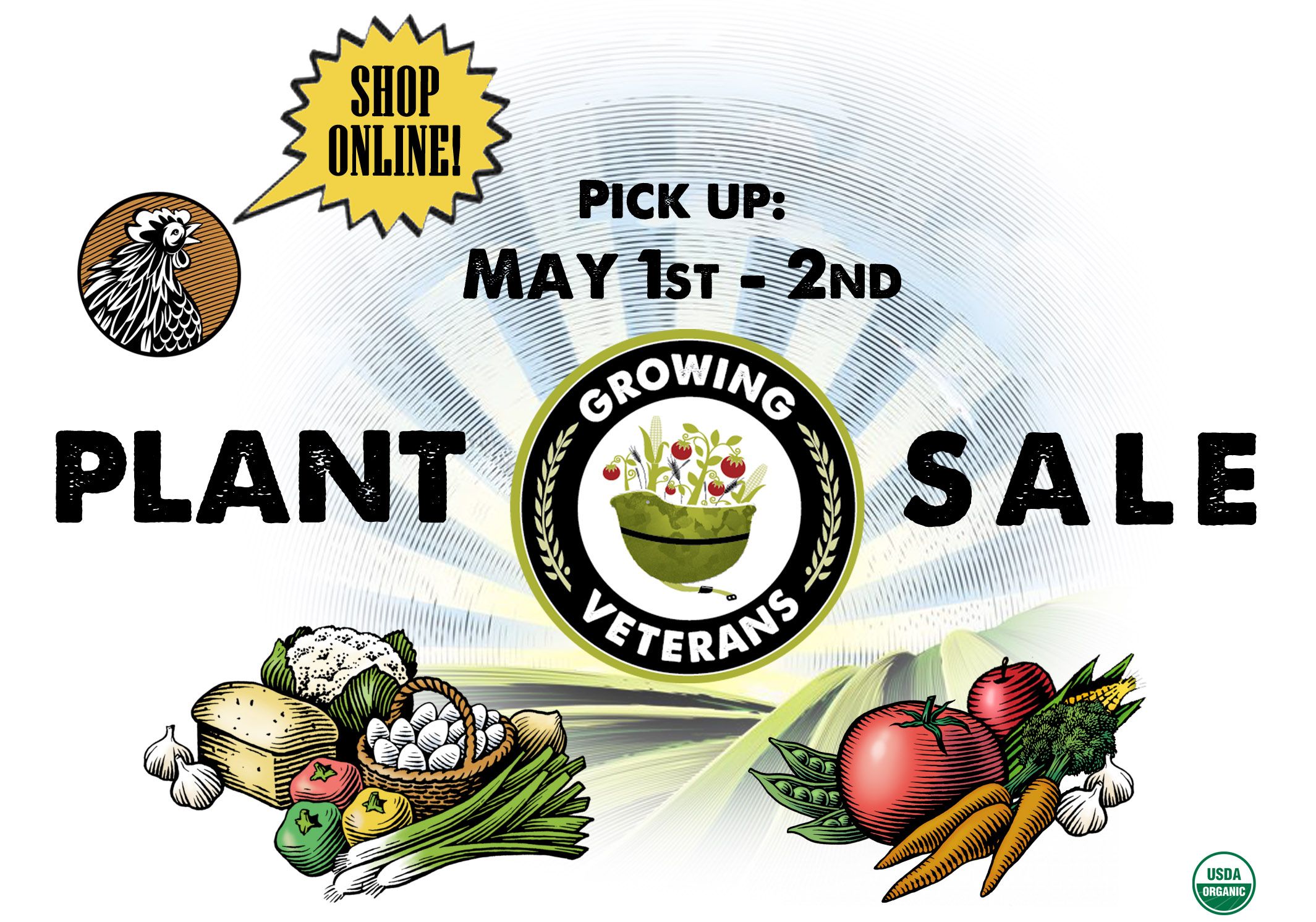 To keep our community and your families safe during these times, our Annual Plant Sale will be held online this year.
Online orders will start on Monday, April 6th and Pick-Up will be on our farm* May 1st & 2nd. 
Simply scroll down to see our selection of organic plant starts
Place your order & Pay (all veterans receive 20% off with code GROWVETS at checkout)
We will put together your order the day before pick up
Check your email and we will set up a time for you to come pick up your order
Come get your plants! 
We will have staggered pick-up times to ensure that there are as few people on the farm as possible. Check your email as we send out time slots to come pick up your plants. This will keep contact minimal to none in order to keep you and your families safe. As we get closer to pick up dates, more details will be emailed out with details and best practices to uphold any current regulations surrounding gatherings and contact.
*Pick Up is available at our farm in Lynden, WA or our outpost at Greenbank Farm on Whidbey Island only. We are unable to ship or deliver plants. If you are unable to buy plants from us, please consider supporting us in other ways so we can continue to grow food for our community.
Questions?
Please email staff@growingveterans.org with any questions you have and thank you for helping us to continue to support our community.
Or, give us a call and we are happy to answer any questions: (360) 553-3577
| Type | Variety | Seed Company |
| --- | --- | --- |
| Basil | Sweet Aroma II | Osbourne Seed Co. |
| Broccoli | Green Gold | Osbourne Seed Co. |
| Cauliflower | Orbit | Osbourne Seed Co. |
| Cucumber | Lemon | Uprising Organic Seeds |
| Cucumber | Silver Slicer | Uprising Organic Seeds |
| Hot Peppers | Early Jalapeños | Johnny's Selected Seeds |
| Hot Peppers | Hildalgo Serrano | FedCo Seeds |
| Hot Peppers | Jedi Jalapeños | Johnny's Selected Seeds |
| Kale | Dazzling Blue | Uprising Organic Seeds |
| Lettuce | Coastal Star | Osbourne Quality Seeds |
| Lettuce | Flashy Trout Back | Uprising Organic Seeds |
| Lettuce | Starhawk | Osbourne Quality Seed |
| Lettuce | Jericho | Uprising Organic Seeds |
| Snap Peas | Cascadia | Uprising Organic Seeds |
| Tomato | Sungold | Uprising Organic Seeds |
| Tomato | Sweet Million | Uprising Organic Seeds |
| Zucchini | Costata Romanesco | Uprising Organic Seeds |
| Zucchini | Dark Star | Uprising Organic Seeds |