Everyone needs friends to lean on, share social time with, talk to, and help find solutions when life is difficult.  Peer support is exactly that – people who have gone through similar life experiences giving social, emotional, and practical support to one another. Veterans are uniquely qualified to be peer supporters to other vets.  With social isolation being a major contributor to depression, PTSD, and suicide, peer support is a valuable tool to prevent suicide and suffering.
Because many veterans would like to support others but might not have the skills to do so, we have designed and a Peer Support Training program. We created our 3-day training with veteran peers, mental health counselors, and education professionals. It is intended to teach participants effective communication skills, awareness around trauma symptoms, and how to use their personal story to encourage and motivate someone else to seek wellness. Our goal is to create a strong culture of peer support, within our staff and volunteers, within other veteran service organizations, and in the community as a whole.
RECENTLY COMPLETED TRAINING: October 13-15, 2017 in Bellingham, WA   
UPCOMING 2018: February 23-25, 2018 in Bellingham, WA
Contact Scotty Irwin for registration or questions: irwin@growingveterans.org, or call 425-974-0907.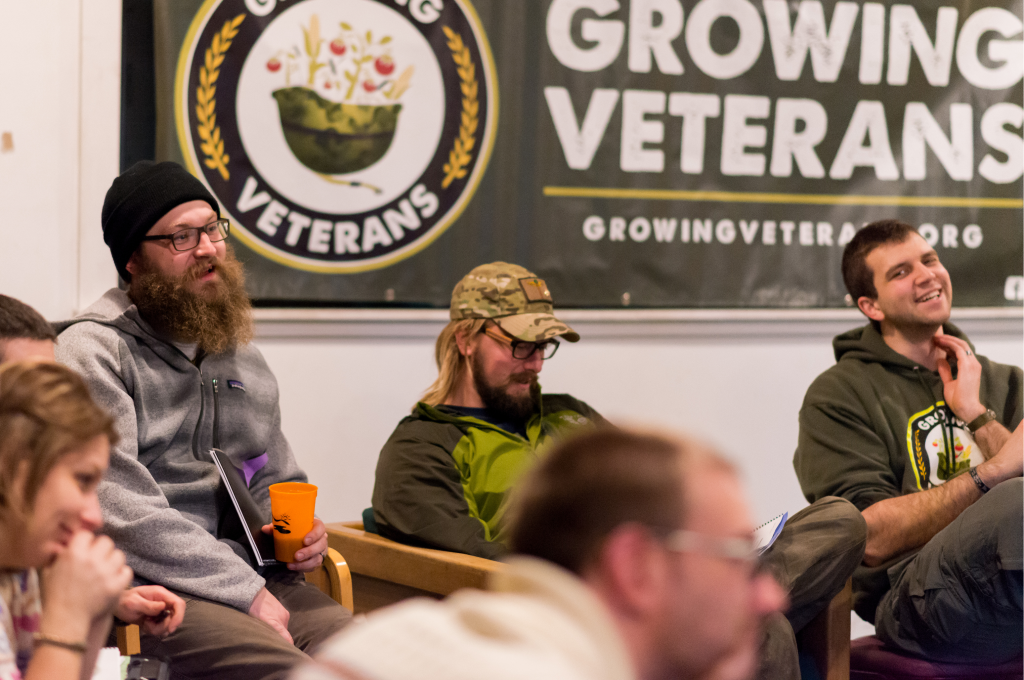 "In order to enjoy the nourishment of the harvest, first you must have the tools to till the field. This weekend Veterans and Community Members of The Mission Continues Puget Sound experienced the power of peer support from Growing Veterans, a new framework to be better guides to our fellow warriors and our community. Built on the foundation of Veteran fellowship, strengthened through the latest advances in evidence-driven therapeutic practice, and polished with the timeless truths of earth-based healing, it empowers us to do what we do best, to move with a purpose for the bond of brother and sisterhood. On the farm, on a run, in response to disasters, in the classroom, at a service project, on deployment, in the street, anywhere; trauma can overwhelm or unite us. It can paralyze or mobilize. Through intention and practice we march willingly in to battle again, our vulnerabilities and scars arming us with the power to lift ourselves, each other, and our loved ones towards safety and victory. Thank you GV, we are indebted."

Ryan Mielcarek
The Mission Continues South Sound Platoon Leader
How is Growing Veterans' Peer Support Training different than state-sponsored Peer Support training programs?
Rather than preparing individuals to work in healthcare and mental health settings as peer supporters, our training aims to create a culture of peer support. We recognize the negative stigma the veteran population places on traditional therapies and have adopted an informal peer-support approach, using our farm sites as the catalyst for peer-support interactions and broader community engagement. This open setting helps remove the stigma that may often be an unintentional barrier toward seeking wellness at a traditional 'brick-and-mortar' health or mental health institution.
Our peer-supporters do not take chart notes for a medical team or have paid positions as peer supporters as we see in medical and mental health institutions. We recognize that paid, professional peer-support roles can have the unintended consequence of creating an 'over-under' relationship between the peer and the peer-supporter. Instead, our peer-supporters fill that role as volunteers.  They look for opportunities to use their own stories of healing and recovery to help encourage veterans who have not sought health services, to do so, to improve their level of wellness. This environment creates a cultural expectation that it is ok and encouraged to share personal stories of overcoming trauma if it will be helpful and therapeutic to others within the group.
Lastly, we do not require a peer supporter to have made a full recovery. Rather, we expect peer supporters who complete our training to have made a commitment to recovery and have begun taking steps toward wellness. As a result, part of our training focuses on helping peer-supporters learn what they can do individually, to seek wellness, practice self-care, and enhance their recovery. Through this process we can strengthen our culture of peer-support, allowing individuals to show up, wherever they are at. Another cultural expectation then is that everyone is seeking to improve their personal level of well-being and to support each other as peers, in the process.