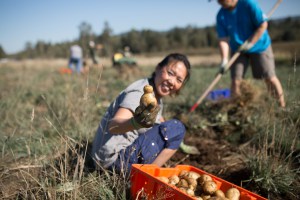 Situated in the beautiful Pacific NW, between the Cascade Mountain Range and the Puget Sound, The Farm serves as the cornerstone for all things Growing Veterans. Using the farm as the platform, we engage local veterans and community members- bridging the gap and providing an example of the amazing things we can accomplish when we work together.
Questions? Contact our Programs Director, Scotty Irwin: irwin@growingveterans.org
Or our Farm Manager, Joel Swenson: swenson@growingveterans.org
Click here to find farm address, map, and directions.
For veterans, we create opportunities for personal and professional development. We often serve as a professional stepping stone, giving vets an opportunity to build their resume and their individual skill sets. Beyond that, we are also a place for vets to come, help out, and hang out with other vets who share similar experiences. We aim to provide as many opportunities for our vets to get involved as possible. Opportunities include employment, professional volunteerism, internships, fellowships, and AmeriCorps positions. Your activities with us do not have to be limited to peer-support and the farm or market- we have veterans helping out with organizational development, fundraising, business and community networking, and educational projects.
For community members, we provide a means for veterans and the community to work alongside each other. By sowing seeds in the fields together, we also sow lasting friendships and help bridge the gap between the military veteran and civilian populations. A day on the farm with our vets removes previously held stereotypes and shows our community that veterans are assets and allies in the sustainable agriculture movement. The honor and support we've received from the community have been invaluable. We couldn't exist without you