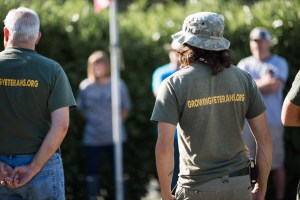 Acknowledging the many issues veterans face: unemployment, homelessness, suicide, divorce, and depression – we believe that in most cases the root cause of these issues is social isolation. Isolated from the peers they served with, from family and friends, from the community as a whole, it can be difficult for a veteran to remain resilient and get the proper support they need. While working in the fields we talk about our wartime experience, issues we're having gaining access to the VA, struggles we face in school using the GI Bill, suicide, politics, relationships, medications…  we even laugh and poke fun at each other, sometimes ruthlessly, because that's what camaraderie is all about. After all, most of us are vets too.
Our impact since 2015:
91,000 lbs of food grown
26,000 lbs of food donated
10,804 volunteer hours logged
Avg. of 23 people per Peer Supporter are receiving support within first three months of training
Our vets report:
87% increased purpose & belonging
91% satisfaction in professional & skill development
74% improved communication skills
82% made new friendships
78% getting more physical activity
The Logo
Upside Down Helmet: represents the end of military service and acknowledges that we can never forget our roots.
Veggies Growing out of Helmet: represents the abundance of life that we grow and sustain, physically and metaphorically.
Seal: represents military emblems, giving us a new emblem to take pride in.