Veteran Variety Show - TONIGHT @ 7pm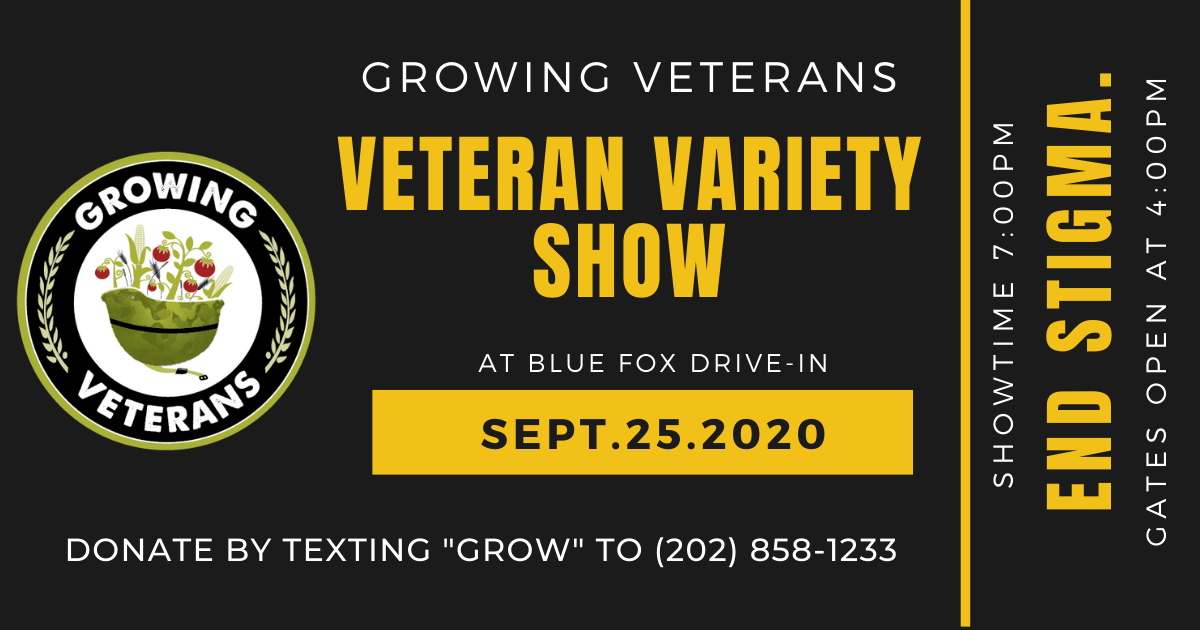 We are so excited that the Veteran Variety Show is finally here! 
You can join us at the Blue Fox Drive-In in Oak Harbor to see the Variety Show and a special showing of Tropic Thunder on the big screen! Tickets can be purchased online or at the gates.
4:00pm Gates Open & Open Air Vendor Market (10% of all proceeds go to Growing Veterans)
7:00pm Color Guard and the Veteran Variety Show! 
8:30pm Tropic Thunder (R)
---
You can get a link to watch from home by buying a ticket. A link will be sent to you at 7:00pm tonight!
---
This event is intended to help us raise funds for our organization. Understandably, donations to our organization from businesses and individuals has gone down 50% in the past 7 months. We understand this is a tough time for everyone, but now more than ever veterans are at risk for isolation. Help us shed the stigma around, and isolation leading to, veteran suicide. We are Growing Veterans and we are here to empower veterans to grow food, community, and each other.
We empower veterans to cultivate purpose and belonging by growing food, community and each other.
The core of our mission is to end isolation though creating purpose and belonging. We strive to accomplish this by growing food, community, and each other.
These are the three pillars of our organization; food, community, and each other.
We grow food, literally, out on our organic farm in Lynden, Washington and our outpost farm on Greenbank Whidbey Island, WA. You can come join us on our farm during our weekly drop-in volunteer days (Monday, Wednesday, and Friday). The majority of our food is donated to the Bellingham Food Bank with the rest given to volunteers and interns.
We grow community through outreach events, hosting corporate volunteer groups, giving farm tours, and fostering relationships with local businesses. We sell our organically grown hops to Aslan Brewing, Co. in Bellingham, WA where they create the delicious Charlie Fox Trot IPA. We manage an apiary (beehives) and harvest their honey that we use with our organically grown garlic and peppers to make our signature Fire in the Hole Hot Sauce with El Fuego Pepper Sauce in Bellingham, WA. We grow a blend of herbs and flowers that are turned into our Nighttime PTS Tea through Wonderland Teas in Bellingham, WA. We partner with the Bellingham Food Bank as an outlet for our harvest. Pre-COVID, we attended markets in the area and constantly attended local colleges and universities to talk to recently transitioned veterans. As well, we hosted different local organizations for trainings and workshops. 
We grow each other in multiple ways. While volunteering on the farm, we deliver "Dirt Therapy" to one another. Both the soil on your hands and the sound of a friendly voice on the other side of the row have been shown to be a positive experience. We also deliver our research backed and accredited Peer Support Training multiple times a year. Our staff and many of our interns have taken this training and are trained to be a support system for all veterans and civilians who walk through our doors. Even more organic is the energy that flows amongst veterans and civilians from all walks of life and all ages that come together on our farm to simply be with one another; share stories, laugh, and interact in a way that is centered on growing things with our hands instead of destroying.
While we are a veterans service organization, we are not a veterans club. Anyone who wants to be out on the farm is welcome.
We are Growing Veterans.
---
COVID-19 Update: We are now able to host small volunteer groups of up to 5 people on the farm while practicing social distancing and wearing masks. We have masks available if you do not have one. Please contact our Farm Manager, Sean Dalgarn, if you would like to come out and volunteer.
---
Head over to our YouTube channel or Newsroom to learn more about us.